Managers, spend your time managing—leave the scheduling to ScheduleWorks. By the way, your workforce will thank you for it.
Access from anywhere
ScheduleWorks is a Web-based application, meaning users can access it from any computer with an Internet connection. Managers can create schedules when on the road or from home. Employees can check their schedules from home, school, the library, or anywhere else they have Internet access. No more coming in on the weekend or disrupting other employees with phone call requests to check upcoming schedules. For companies with multiple locations, traveling users need not worry that the software is installed on the local computers. If the machine is online, access to the application is immediate and convenient.
Seamless interface
Normal web-applications are cumbersome to work with because every action is executed by clicking on a hyperlink. This means that everything a user does to interact with the application causes the current page to refresh. Not good.

ScheduleWorks features a smooth, intuitive interface that feels like a desktop application. Data is passed between the user and the remote server behind the scenes, which means no page refreshing.
Other online scheduling tools require data to be input via text fields, which is very time consuming and outdated when compared with the graphical interfaces found in tools like Outlook™, Palm Desktop™, and now, ScheduleWorks. Who wants to type out all the time values for every time block when you can just "draw" them quickly with your mouse? With ScheduleWorks, you just click on the start time and end time of a block to set it. Data can also be input via text fields and dropdown menus for those who prefer not to use the mouse as much.
Smart schedule engine
It can be difficult to ensure that your schedules account for all the time-off requests piled on your desk, leave you with enough talent in all areas of your business at all times, and don't go over the maximum target hours for each employee. Let ScheduleWorks put together the scheduling puzzle. The integrated schedule engine computes "optimal" schedules based on the labor requirements determined by managers, the availability of each employee, and other special constraints such as roles and target workloads. Save your requirement scenarios as templates for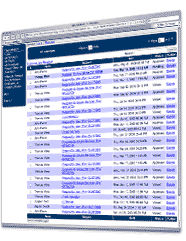 future use to make the process even faster.
Get the word out
An integrated email system makes it easy to stay in contact within your organization. Send announcements and memos easily to everyone, individuals, or a select few. Employees can communicate with each other through the messaging system to discuss their schedule, upcoming events, or anything else. Users can specify an external email address for forwarding to ensure they don't miss a beat.
Request time off
One of the most frustrating aspects of traditional scheduling is the management of time-off requests. Dealing with signatures and paperwork is a hassle for both managers and employees. Many managers have also been forced back to the drawing board at some time after realizing a time-off request had been forgotten when creating a schedule.

With ScheduleWorks, employees submit a time-off request to the manager with the date, time, and reason information. The manager simply grants or declines the request, and ScheduleWorks keeps track of it. When the time comes to generate a week's schedule, the scheduling engine checks for granted time-off requests to ensure no one is scheduled when unavailable.
Free updates
Already packed with high-quality features, ScheduleWorks will continue to improve at a rapid pace. There is a long list of exciting features currently in development and on the horizon. Because ScheduleWorks is Web-based, these upgrades will be immediately available to all users free of charge. You will always be up-to-date and able to enjoy the latest improvements.
No IT resources needed
Despite having such a powerful computerized tool at your fingertips, you don't need to worry about having dedicated equipment or IT professionals on hand to support the system. The application resides on our secure servers, so we take care of your data storage, backups, and system maintenance. Customer service is on hand to answer any questions.